Expired
May 17, 2019




10:00 am - 2:00 pm
Drop-in to meet our partners.
A selection of East Dunbartonshire Council's partner organisations, including representatives from East Dunbartonshire Council (Trading Standards, Licensing and Environmental Health), Scottish Investment Bank, DSL Business Finance, Business Loans Scotland, Skills Development Scotland, Developing the Young Workforce, Zero Waste Scotland and The Prince's Trust Scotland will be in attendance to meet you.
Click here  book a place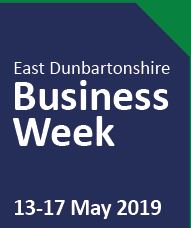 East Dunbartonshire Business Week comprises a comprehensive range of events designed to provide information on support available on business start-up, growth and sustainability. The programme includes guest speakers, training workshops, networking events and information sessions with our partner agencies.
All are free to attend – for a full listing and to view a full programme visit businessworks.scot/business-week-2019

                #EDBusinessWeek2019