Win your Business in a Box 2017
One budding entrepreneur will win £5,000 + more to start their new business this November.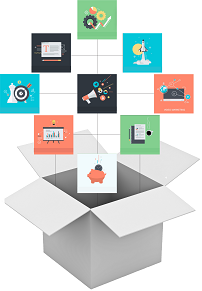 Where: The New Start Scotland Exhibition, The SEC, Glasgow
When: November 1st & 2nd 2017
This November, the New Start Scotland Exhibition returns to Glasgow offering entrepreneurs all the advice and contacts they need to start their business. It is also home to the "Win your business in a box" competition – a dragons den style pitch competition where budding entrepreneurs will present their idea for the chance of winning £5,000 cash and a huge range of business services to get them started.
The Scottish Government have placed actively encouraging entrepreneurship and corporate innovation at the heart of their Scotland CAN DO initiative, and to help the country grasp the commercial opportunities of the future, New Start Scotland is committed to aiding the growth of entrepreneurial skills and culture in Scotland. As a result, this years' event will host a business competition, in conjunction with sponsors, to provide one visionary winner with all they need to get their business up and running.
As well as £5,000 cash funding, the winner will also receive a long list of prizes donated by event exhibitors. See full details of the prize and how to enter the competition here.
Like this article? Why not share with your network?