Latest news
The CivTech® pilot breaks cover
Posted on 26 July 2016 at 14:19
The Scottish Government's CivTech® pilot brings together private sector innovation, public organisations and citizens to develop more efficient and effective products and services, which will translate to new, better, faster and easier experiences for users.
By asking the talented tech community to solve open challenges rather than closed tenders, we open up the public sector to innovative solutions. It's going to provide an unprecedented route for start-ups and SMEs to bring the benefits of digital transformation to the public sector. And crucially, backed by the Scottish Government, it's going to create a swift, secure and practical pathway for those businesses to win contracts from the public sector.
Centred around challenges that public sector organisations would like solved, the CivTech® pilot Accelerator will take solutions through an intensive 3 month programme to create and evolve new products and services.
So what does this mean for you?
The public sector - CivTech® pilot's mission is to stimulate innovation and daring in the public sector by creating an environment in which groundbreaking products and services can be developed - creating more effective and efficient services, better user experiences, and economies. It's been designed to harness the nation's innovation skills in the most effective manner possible, and help drive the Scottish Government's objectives in terms of public sector procurement and digital transformation.
Citizens - Citizens have a vital role to play in co-production. A key tenet of the Scottish Approach to Government is citizen participation, and we will be identifying individuals and/or citizen groups to help co-produce the Challenge solution. We want to make sure that each and every CivTech® pilot idea has the input from the end-user.
Academia – The CivTech® pilot has numerous opportunities for students, graduates and academics. It can be winning a place on the accelerator itself, joining the team for work experience or coming to our networking events (subject to availability).
SMEs - The CivTech® pilot offers an unprecedented opportunity to engage with the public sector in a meaningful, effective and productive way by solving a Challenge, building a product, and developing a relationship with a major public sector organisation. It's a chance to build a business, and do some good along the way.
The CivTech® pilot challenges are now live on https://civtech.atlassian.net/ . So if you think that you could solve one of our six challenges relating to Environment, Health and Transport, applications will be received through Public Contracts Scotland (more info about this on the wiki). Closing date Monday 1st August 9:00am.
For more information about how you can get involved with the CivTech® pilot and Accelerator, be it participant, challenge sponsor or for personal interest, contact
civtech@gov.scot
or follow us on twitter (
@CivTechScotland
).
CLICK HERE for more information about the challenges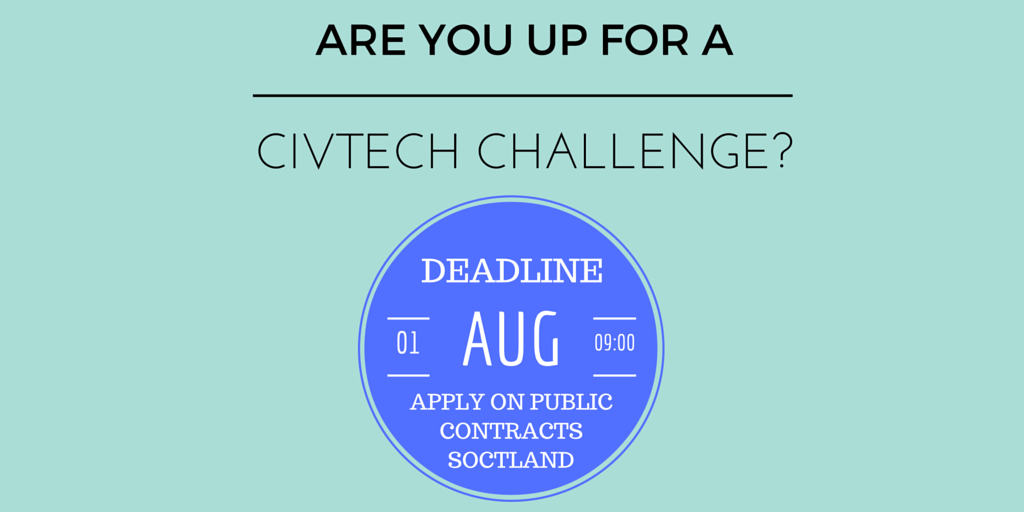 In this section
Events calendar
August 2022
Su
M
Tu
W
Th
F
Sa

1

2

3

4

5

6

7

8

9

10

11

12

13

14

15

16

17

18

19

20

21

22

23

24

25

26

27

28

29

30

31