Latest news
New initiative helps businesses identify export opportunities
Posted on 6 February 2019 at 11:03
A new programme is running for North Lanarkshire businesses interested in accessing new customers and markets outside of the United Kingdom.

Passport to Export is a pilot initiative being run by Glasgow and Lanarkshire Chambers of Commerce, funded by the Scottish Government and supported by the council.

Four workshops will be held from January to March, designed for businesses who have not yet considered exporting to learn more about what's involved and help them get started.

These will held on:



Thursday 7 February (8am - 10am) - International Finance


Tuesday 19 February (8am - 10am) - Legal Considerations


Tuesday 12 March (4pm – 6pm) - International Logistics


As part of the pilot programme, an app –
ExportHub
- has been developed to provide a digital aid and source of ongoing support. Users can upload comments, suggestions and videos relating to their own experiences, challenges, and successes in international trade and learn from the experiences of others.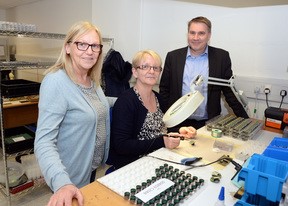 Cumbernauld based Gas Sensing Solutions Ltd, design and manufacture CO2 monitors and sensors. In 12 years of trading, the company has shipped product to 47 countries worldwide. CEO Calum MacGregor commented: "Export markets have been good for our company, enabling us to grow in multiple industry sectors including aerospace, defence and healthcare. We have now reached a stage where exports account for 50% of our total output and we see real potential to build on that and grow further."

Yvonne Weir, our Enterprise Manager says: "For many businesses, exporting can seem daunting and the processes involved from a financial, legal and logistical perspective can be off-putting.

"This programme has been designed to bring businesses together and provide expert advice from professionals, as well as those with experience of the exporting journey. By the end of the programme, business owners and employees will be able to stand back, review their product or service offer and take an informed view on whether export is for them.

"We would urge businesses, irrespective of size or sector, to engage with this initiative, to approach it with an open mind and to grasp the opportunities that exist."

For further information or to book a place click here.
In this section
Events calendar
August 2022
Su
M
Tu
W
Th
F
Sa

1

2

3

4

5

6

7

8

9

10

11

12

13

14

15

16

17

18

19

20

21

22

23

24

25

26

27

28

29

30

31