Latest news
Supplier Development Programme supports the 2016 Scottish Family Business awards
Posted on 22 September 2016 at 12:30
Family firms are again being invited to enter one of Scotland's most prestigious awards schemes.

The Herald Scottish Family Business Awards are being staged for a fifth year, celebrating once more the invaluable contribution family-owned companies make to the Scottish economy, with prizes across 11 categories.

The Supplier Development Programme (SDP) is delighted to be a supporter of the Rural Family Business of the Year (small/medium) award category.

SDP Programme Manager, Gillian Cameron, said: "We believe that small businesses play an essential role in providing employment and support in rural areas. Our Digital Programme of webinars on how to tender is critical in reaching this audience and we are delighted to support the awards".

This year's awards, held in association with Business Gateway, invite entries to a broad range of categories, from rural family businesses and positive customer service to international growth. A new award, celebrating family firms which demonstrate eco-friendly initiatives, has been introduced for the first time.

The judging panel is chaired by Herald business editor Ian McConnell. Hugh Lightbody, chief officer at the Business Gateway National Unit, said: "Winning a business award is far more than simply receiving the accolade. "It is a clear demonstration of the business's hard work and quality and shows that the company is at the top of its game. It also provides a strong platform for the company to continue its success into the future. "Business Gateway works with thousands of SMEs and family businesses every year and would encourage all eligible businesses to enter."

To enter please visit The Herald Scottish Family Business Awards 2016

For more information please contact Lynsay Wong on 0141 302 6082.

All entries must be submitted by Wednesday, October 19, 2016.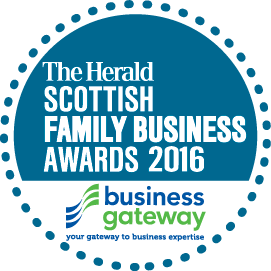 In this section
Events calendar
August 2022
Su
M
Tu
W
Th
F
Sa

1

2

3

4

5

6

7

8

9

10

11

12

13

14

15

16

17

18

19

20

21

22

23

24

25

26

27

28

29

30

31