Latest news
The Robot Remains: New Supplier Development Programme Website Launched.
Posted on 4 June 2015 at 13:22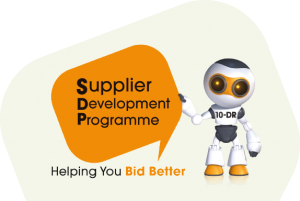 Love him or loathe him: the 10DR robot is still a key feature of the new Supplier Development Programme (SDP) website. It takes people repeating his name a few times phonetically to get what he stands for. A clue is in his name 10DR: the Programme supports suppliers in the TENDER process

The website has a bold new look and enhanced navigation experience. To start, the menus have been streamlined to give you quick access to the items you're looking for. The improved events calendar means you can easily search for the type event in the location that best suits you.

Gillian Cameron, Programme Manager commented

"The new site has been designed in direct response to supplier feedback and increasing demand for digital tendering support. By creating a more dynamic website with new and updated content SMe's across Scotland now have access to free quality tender training information at the click of a button."
SDP recognises that small businesses need to be time efficient and by providing online access a wider selection of businesses can participate without the need for travel.The programme of webinars will condense training to bite-size chunks and make it accessible to businesses across the country.
SDP invite you to start exploring the following features:


Your region – access the tender and business support available to you locally


Your Business Profile -complete your entry on the Supplier Register, offering a free marketing tool to promote your business.


Book to attend upcoming events where you can interact with pubic sector buyers around Scotland


Going forward, SDP promise to continually expand their online content and keep you updated with the latest information on public sector tendering in Scotland, so check back often, and connect with SDP on your social network.
Notes to editors:
The Supplier Development Programme is a local authority partnership established to provide public sector procurement training for SMe's and the Third Sector.
Supported by Scottish Government's Digital Scotland Business Excellence Partnership, SDP works with other business support organisations including Business Gateway, Scottish Enterprise, and Ready for Business.
Contact information:
General:
info@sdpscotland.co.uk
In this section
Events calendar
August 2022
Su
M
Tu
W
Th
F
Sa

1

2

3

4

5

6

7

8

9

10

11

12

13

14

15

16

17

18

19

20

21

22

23

24

25

26

27

28

29

30

31