Procurex Scotland Live 2015
We're excited to be exhibiting at Procurex Scotland Live 2015!
Bringing together public sector buyers and suppliers from across Scotland and the UK, this year's event will take place at the SECC, Glasgow on Tuesday 6th October.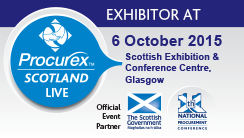 Procurex Scotland Live 2015 will host a range of interactive features, designed to maximise engagement with key public procurement organisations, in addition to enhancing knowledge and skills. The entire event has been specifically designed to maximise the opportunity of developing and winning business, with the public sector.
Once again partnering with the Scottish Government, Procurex Scotland Live is proud to host the Scottish Government's 11th National Procurement Conference which attracts buyers, heads of department and contract managers responsible for managing the national public procurement expenditure of over £10 billion a year. This year's speakers include Ainslie McLaughlin, Director of Procurement and Commercial at Scottish Government and Keith Brown MSP, Cabinet Secretary for Infrastructure, Investment and Cities
To find out more and book this event click here to visit the Procurex Scotland Live website.
Like this article? Why not share with your network?